Field Stories
Bani Ans experiencing significant development change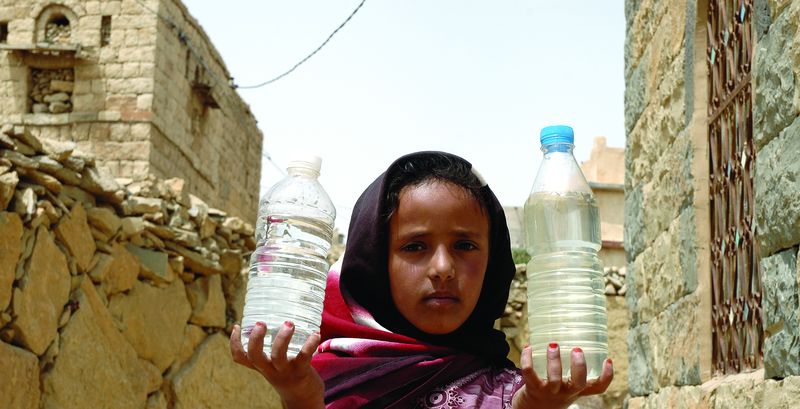 The sub-district of Bani Ans (Wesab Al-Safel District, Dhamar governorate) is one of the poorest areas of the country and lacks many basic services.
The youth in this area often abandon their education and migrate to other cities and neighboring countries, working for low wages that barely meet their families' needs.
In response to these challenges, the Integrated Intervention Program (IIP) targeted this sub-district two years ago, building a rural road, 2 schools, and 6 rainwater harvesting tanks in the mountain, as well as improving 2 water wells and 2 networks distributing water to 142 scattered houses. In addition, the IIP carried out projects in literacy, health education, and capacity building.
The SFD efforts helped alleviate the suffering of women in their arduous daily trips to fetch water, and also encouraged girls to continue their education, with a four-fold increase in the number of girls reaching Grade 6 (from 4 girls before to 16 today).
When asked, Mansour Ali Al-Adoufi, who supports 15 household members in Mahniyah community, reported that he was sending 6 girls and 4 boys to fetch water daily, each carrying 20 liters in 20 trips to and from the valley. This negatively impacted their education.
Mansour Ali Al-Adoufi says that today his daughters and sons attend their school regularly
Before establishing and equipping the 2 schools, 230 male and female students studied in dilapidated and crowded buildings under the trees, with parents paying teachers' hostel lease expenses.
Today teachers' lives have become more stable, as they now live and teach in an appropriate environment with access to health and safety services. There has been a significant increase in the number of students, especially girls. Previously, in Mahniyah community, only 15 female students attended school, alongside 165 male students. Now, 70 girls and 180 boys attend the area's Al-Fawz School. In A-Gabal community, the number of female students rose from 30 to 80, and male students from 50 to 70.
The IIP also strived to build the capacities in the sub-district, by establishing and training a Community Development Committee. The program has also trained several groups of locals in beekeeping, animal health, and irrigation. In addition, the program has provided training to traditional birth attendants in delivery health practices and financed grants to qualify community midwives to obtain two-year diplomas in midwifery.