Field Stories
Equal access to MF opportunities makes careers a success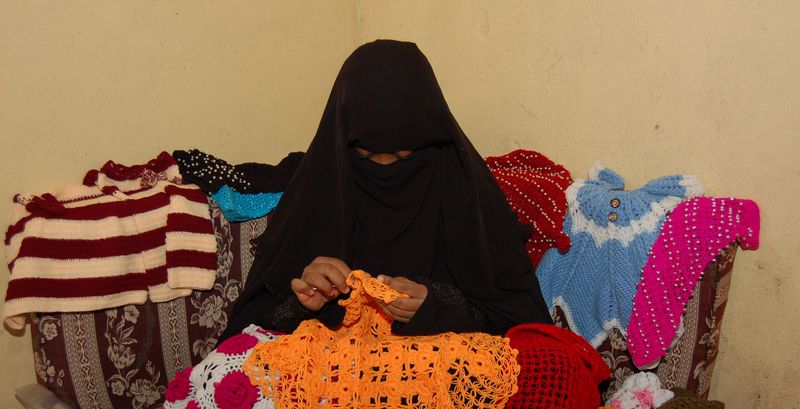 Microfinance (MF) is a powerful tool providing opportunities for individuals and communities to increase their income and improve their living standards through improved education, health, and social services.
Microfinance also contributes to the principle of equal opportunity, the essence of social justice. Microfinance accomplishes this by providing adequate and fair opportunities for the SME's clients, which in turn creates job opportunities for a large number of individuals, thereby increasing incomes and living standards for many within the community.
Lawahedh Musleh and Istanbul Salem are neighbors in Al-Mansoura, Aden. Both have benefited from the credit services provided by the Aden Microfinance Foundation (AMF). Lawahedh, married and the mother of 5 kids, has been working at home for the past 5 years, knitting wool garments and selling them to neighbors. As her family responsibilities increased, her husband's salary no longer was adequate to cover their expenses. She began training in knitting techniques. Female credit officers from AMF approached her and Istanbul's houses promoting the AMF's services. Lawahedh was extended a loan of YER 20,000 to buy wool and other supplies to improve her woolen products. She used the fifth and final credit of YER 80,000 towards additional product development her initial product line began selling for higher prices.
Istanbul is the mother of 6 kids. Her husband and elder son's salaries have been insufficient to cover the family's needs. She had been knitting wool and sewing clothes for 10 years and voluntarily trained 16 women from neighboring areas in knitting. Like her friend, Lawahedh, Istanbul used the AMF's services and obtained 5 loans at a total value of YER 290,000.
Both women participated in the 2012 exhibition of small and micro enterprises in Sana'a. They stated that they were spending a portion of their profits to help meet their family's essential needs, and that their sales had improved due to their more diverse product lines and elegant and stylish touches.
"I am thinking seriously about opening a sewing room," says Istanbul, "for knitting woolen products and training girls in this profession, since the demand increases in the winter, offering the highest prices. Lawahedh and I are currently exporting our products out of our houses, and we lately started to ship them to one of the shops in Mukalla city and its branch in Aden city. In some seasons, selling grows and working hours increase. The sewing room will be a new chance to accomodate the demand of the market."
Istanbul and Lawahedh both emphasized the significance of microfinance in reaching the market and the role of market demand to diversity the product offerings and increase the quality. Another significant development that the microfinance opportunities have promoted is their interest in teamwork and exchanging experiences.