Field Stories
Labor wage spent on life saving and livelihood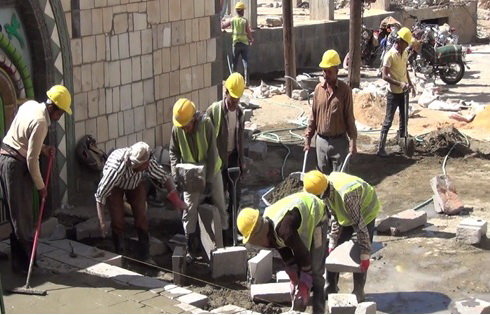 Radman Aladbu'i, married to a mother of 5 orphans, fled the war-destroyed town of Haradh, north western of Hajja Governorate to an IDPs' camp in Ibb City.
So far, Radman has received YR 70 thousand as labor wage from a CfW street pavement project, of which he paid for the bill of the recent delivery of his wife and the nutritious food for her and his newborn baby and the public school fees for the 5 children after they had dropped out. He also subscribed in a saving group that he plans to buy a motorcycle as a new source of living after his working days in the project are completed.
His large family members bear the poor quality of food served by the camp to cover their other essential needs. They also feel that their suffering will prolong after their town of origin has been totally closed due to the continued clashes and most buildings were severely damaged.