Field Stories
Cash and food security overcoming conflict challenges in Nisab Shabwah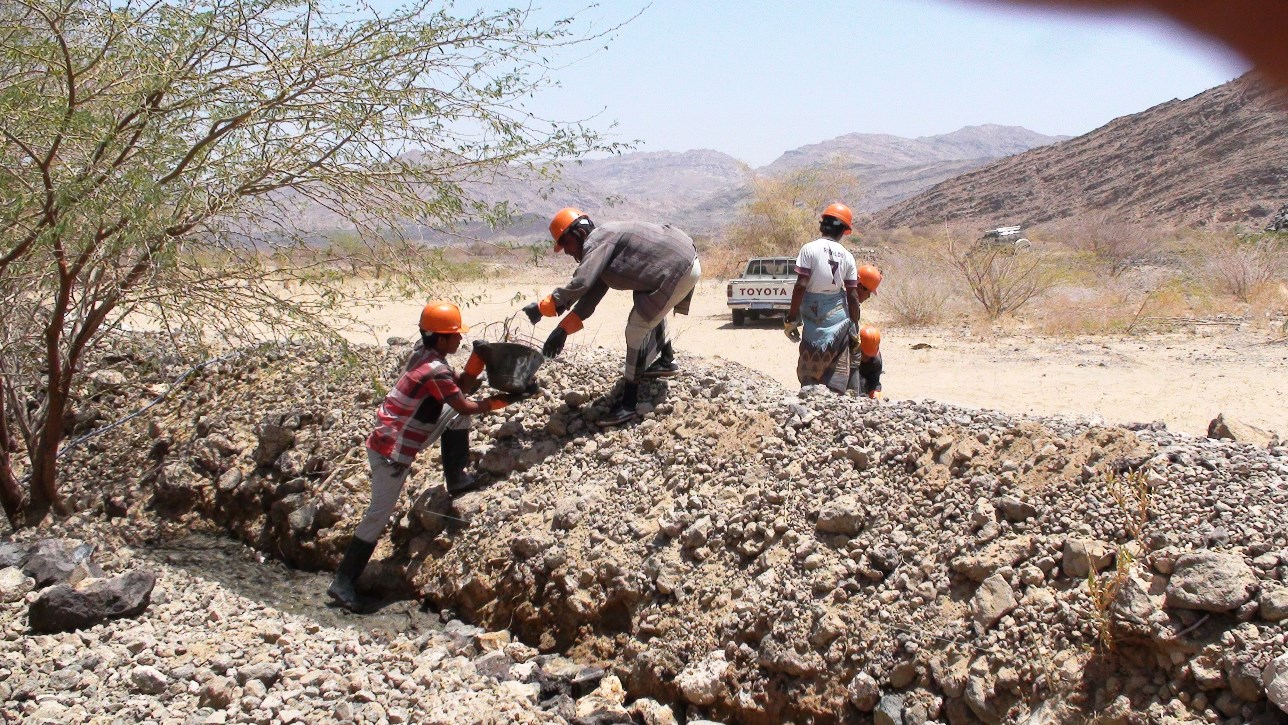 Amidst continuing conflict for the fourth year in Yemen, YECRP projects seek to help increase food productivity for vulnerable communities that have suffered difficult accessibility to livelihoods. In the tribal; Al-Maraziq villages of Nisab distict of Shabwah (east of Yemen), lives of the population was threatened and their access to livelihoods and education was restricted due to three drivers of vulnerability; the impact of the conflict, being in remote areas and the protracted retaliation with neighboring tribes.
"The people here work in beekeeping and raising livestock only. Agriculture here is poor as they cannot afford to bear the cost of irrigation facilities to catch rain floods that pass to downstream areas," said the villager Abdulkhaliq Tarmoom.
The ongoing economic crisis in Yemen has largely affected the economic activity of the population of Alfaraa Al-Ulia and Alrasas villages in the area which has unprecedentedly exacerbated their vulnerability during the hardest time in their lifetime. "Being in remote areas, they have been deprived of relief aid 3 years ago," added Tarmoom.
"SFD has been the only actor since years ago to have responded to our needs and save our lives. We expected SFD to distribute food baskets for one or two distributions, but it helped the people secure their food through supporting agriculture and increasing vegetation and fodders in order to enhance the production of livestock and honey," said beneficiary Salim Abdurabou.
The Cash for Work Program implemented by SFD, through the selection and training of the poorest in the community, has established stone dykes in ten selected sites in the valley of both target villages in order to direct the flood waters to irrigate their lands and alleviate the risk of flow of flood on the downstream communities.
Spotlighting impact, the beneficiary Ali Almarzaqi said "My labor wage came on time to secure my family's needs for Ramadan and the coming feasts. My debts have rose while I have no way to get food for my kids." Another beneficiary Nafi'e Mohamed said "Now, we did this new rain catching scheme for land irrigation, and we purchased the basic needs for my family and 5 goats for livelihood."
Saleh Qanbo'a said that villagers who received labor wage got benefits. The response has trained and produced builders and assistants. If we need any constructions now, we have the people to do the work if the needed supplies are provided. Mohamed Awadh, a shop owner said "I worked in the Cash-for-work response and the wage supported my family. The work in my shop was dull, but its contents and sales have increased."
This story has not finished here, but the SFD is starting a new story with a similar response in the neighboring village of Almareba that share the suffering of its peer neighbors.