Newsroom
KFAED provides $50-million grant through SFD to help construct conflict-affected areas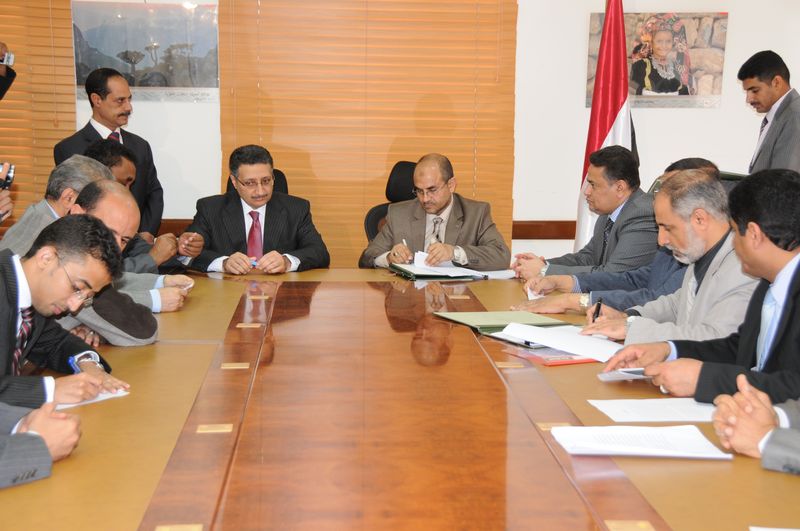 The Government of the State of Kuwait, through the Kuwait Fund for Arab Economic Development (KFAED) provided the Republic of Yemen with $50-million grant to be utilized through the Social Fund for Development (SFD) for the construction of conflict-affected areas.
The grant financing agreement, signed on 04 April 2013 in Sana'a between Yemen and KFAED, is the launch of allocating commitment of the State of Kuwait to Yemen set forth during the Yemen Friends Group fourth meeting held in New York in September 2012.
The SFD will use the grant to support reconstruction of areas affected by 2011 violent events experienced by a number of cities and governorates through the establishment and rehabilitation of infrastructure projects, social facilities and administrative buildings in Abyan, Aden, Lahj, Sana'a, Capital City, Sa'ada, Amran, Hajjah, Shabwa and Taiz Governorates.
The agreement was signed by HE Dr. Mohammed Al-Sa'adi, Minister of Planning and International Cooperation, and KFAED Mission Head, Eng. Tareq Al-Manis, with the attendance of HE Sakhr Al-Wageeh, Minister of Finance, and Eng. Sa'ad Al-Arifi, Director General of the Gulf Cooperation Council (GCC) Office in Yemen.
Following the signing of the agreement, Al-Sa'adi praised KFAED contributions in supporting infrastructure projects in Yemen and the State of Kuwait in supporting the efforts of the National Reconciliation Government aimed at the reconstruction of the affected areas and accelerating normalization.
For his part, Al-Manis reiterated resolve of KFAED to continue to support the implementation of infrastructure and service projects in Yemen.
It should be noted that KFAED has been supporting SFD since 2009, providing $50-million loan, in addition to Kuwait Amiri Grant of $6 million endowed by His Highness Sheikh Sabah Al-Ahmed Al-Jaber Al-Sabah, Amir of Kuwait, to SFD through KFAED.
The new grant, and the overall support provided by KFAED to SFD, reflects the keenness of the fraternal State of Kuwait to continue to assist the Yemeni people, contributing effectively to support the development process and restore stability in the country. The grant also symbolizes the confidence of KFAED and other SFD donors in SFD's capacity to absorb available funds in implementing development projects throughout the country.