Newsroom
Inclusive toilet considers the people with disabilities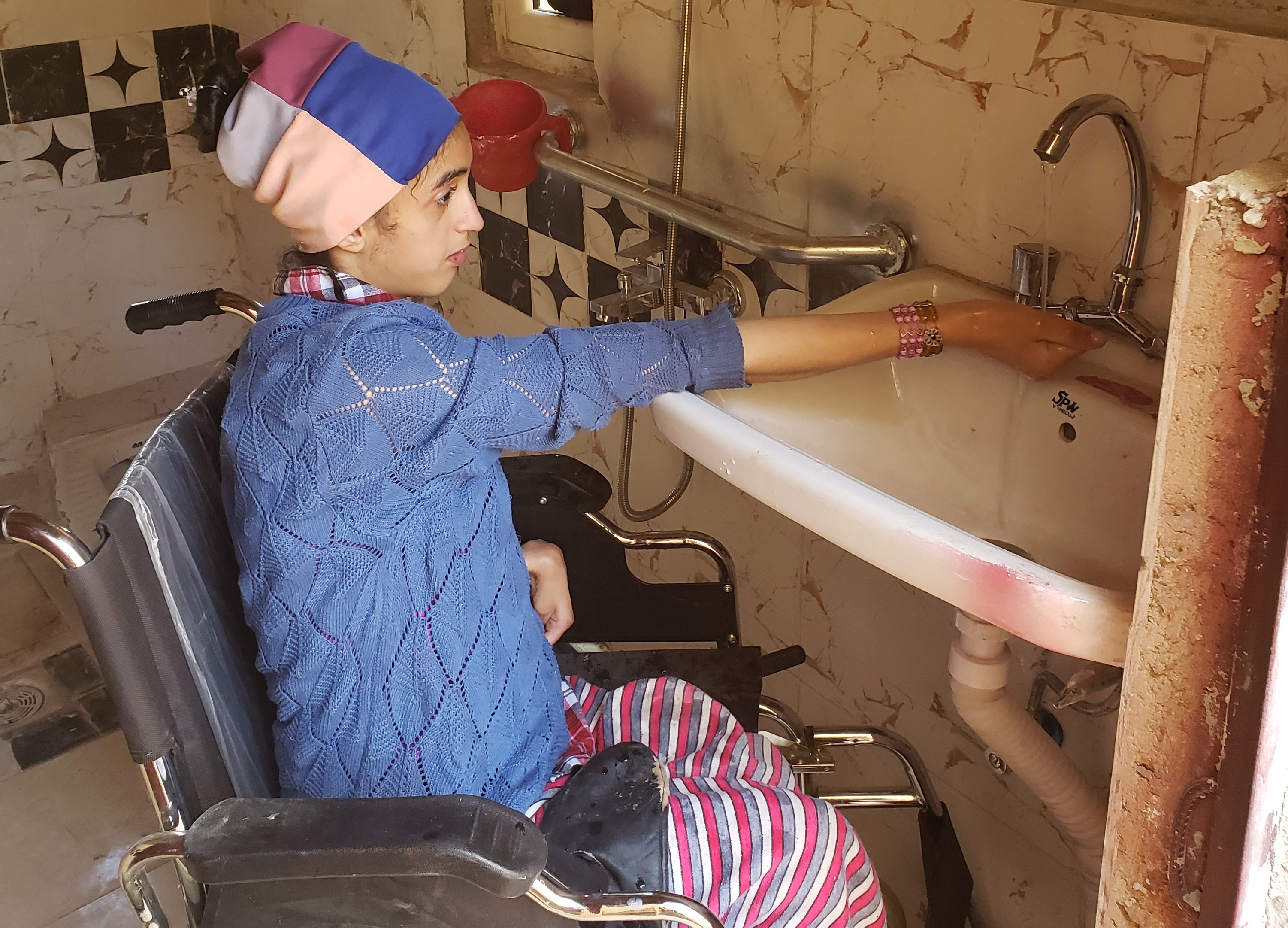 "Thank you for arriving at the right time" said Mrs. Najat (a 62-year-old woman) to the SFD team that improved and built traditional latrines in Bait Alamir community, "as our problem has reached a critical point; your supported latrine has created a suitable solution to one of my biggest problems."
Najat continues to explain her complaint: "We are a small family with an aged husband, my young son Hussein, and my disabled daughter Batol (16 years). Because of the complete atrophy of one of her hands and one of her legs, this elderly mother has been carrying Batol on her back to the old latrine encountering difficulties in cleaning and doing her personal hygiene. The problem has exacerbated today as Batol has grown, weighed heavily and reached the age of maturity. She becomes in dire need of privacy in order to give her a sense of confidence and dignity and the minimum acceptable levels of capability and independence. This has ended Batol's inherent feeling of inferiority in front of her peers and of being a heavy burden on her family. All these have coincided with the mother's realization of old age and frailty of strength together with the lack of their old latrine to everything that could make the task easier to the mother and daughter!
In many cases, latrines achieve feasible results in the areas of education, nutrition, income and environment, as they provide amazing dignity to women and girls during menstruation and pregnancy. Batol has not forgotten until today that her disability prevented her from education due to the distance from school as her wheel chair could not move on the rugged rocky road. According to her mother, Batol began to feel that the supported PWD equipped latrine gives her a happier chapter of life and contributes to changing her personality, self-esteem and adds to her abilities in the coming part of life. The design and rehabilitation of the latrine for this family have been improved and exceptionally provided, given the state of Batol, with adequate equipment that helped her use all its components for all her needs, including bathing independently without the need for help from her elderly mother.
Najat adds, "Since the completion of service delivery, Batol looked smiling longer than ever. Now she is asking permission to spend a longer time in the latrine at her own as she enjoys comparing it with the previous primitive one such as tiles and water self-pumping system, lack of odor."